In February I headed to Bellingen on the Mid North Coast of NSW to meet with Steve and Sonya from Hemp Creative Bellingen, to check out their Hemp Farming Project. Whilst there I was invited to come back and join them for their harvest in the coming month. Loving Hemp as I do, I of course accepted and on Sunday March 2nd we headed up once more to Bellingen to check out Steve and Sonya's hemp harvest in action, their first fibre crop.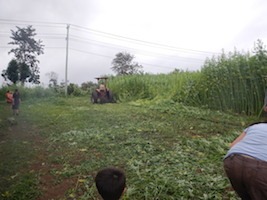 The weather on the way up was quite wet and was going to jeopardise the start of the harvest, however once we arrived in Bellingen the rain had cleared up and the sun was just poking through the clouds enough for Steve to cut a for rows of Hemp.
Steve was using an old 1950's tractor and cutter to cut the rows of Hemp the old fashion way. Once the stalks had been cut, people were there to collect and bail the Hemp stalks up into standing tepee looking structures in the field so the rettting process can begin.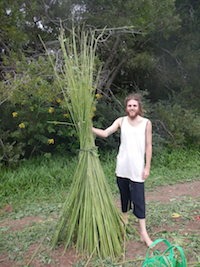 Retting Hemp is a process used to help separate the bast fibres from the inner woody core. With Hemp being one of the most labour intensive crops, retting is a process that is essential, especially for hand processing which Steve and Sonya aim to do for the whole process. Steve grew roughly a hectare  (2.5 acres) of industrial hemp this season which has allowed the local community to become involved with this fabulous and sustainable activity. If grown at its full potential, the amount of biomass that this hectare of Hemp could yield would be enough to build the outer structure of an average sized 4 bedroom home out of Hempcrete. Hempcrete is a Hemp based concrete that usually consists of Hemp hurds, lime stone and water. The lime stone and Hemp bind together to form a super strong yet completely self insulating building material, that is fire proof, mould resistant and carbon negative.
Learn more about Hempcrete here at Hempcrete Australia.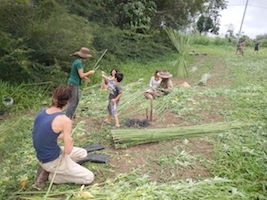 Calling on help from the community to harvest the Hemp the old fashion way, many people jumped on the opportunity to help out in anyway they could. Even a few kids were spotted leading a helping hand. It was truly a great experience seeing a community getting back to it's roots and growing Hemp to benefit their local environment and community with a sustainable and clean resource.
We are in the progress of trying to undertake our own sustainable Hemp Farming Project here on the Central Coast. We have had great interest so far from people in the Central Coast community that want to help out in any way they can to establish our own local grown Hemp project farm. We are calling on anyone who would like to be a part of a Central Coast based Hemp farming project and are looking for anyone who might be able to donate land, time or resources to get this project established.
If you're interested in being part of a local Hemp farming project on the Central Coast? Please register your interest with myself Alex, by either calling (02) 4344 2300 or by emailing me at alex@hempstore.com.
Like Hemp Creative Bellingen on Facebook to follow their future Hemp Farming Projects.
https://www.facebook.com/HempCreativeBellingen
Together we can grow a localised Hemp industry!