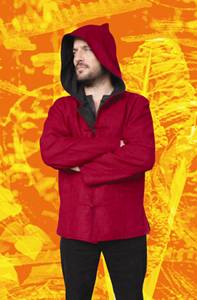 HAPPY CLOTHING
When we look at what we wear and what we feel when we wear it, natural fibres tend come out trumps every time. Natural fibres tend to sit well, breath well and look good.
Many people wear natural fibres primarily for ethical or ecological reasons, but there are also health reasons for wearing only natural fibres They offer advantages in breath-ability, durability, water absorption, temperature regulation, anti microbial properties and the list goes on….  The weave of natural fabrics allows heat and moisture to escape when the temperature is hot and will help insulate the body when the temperature is cold, keeping us comfortable in all weather conditions.
.
If we look at natural fibres, we should go one step further and choose sustainable fibres, ones that will not destroy the earth but actually give a little back. Clothes made from Organic Cotton, Hemp, Bamboo and Soy are much kinder to the environment and are usually produced by small operators catering to a unique market. By supporting these smaller operators, we help drive business away from multinationals. Most big corporations have no regard for human health and are only interested in the bottom line. Over time, by voting with our wallets, we can hopefully change the way these massive clothing companies manufacture and produce products. We have seen this happen with organic produce. The big supermarkets have realised that if they want to keep the customer happy, they needed to offer what the customer was going elsewhere to get.
We are slowly starting to see an increase in demand for fair trade and sustainable clothing and a few big companies are starting to play ball and offer such alternatives.
Let's hope that over time, more big clothing companies have a look at their practices and ensure that ALL their clothing is made from sustainable, non polluting, natural fabrics, using sweatshop free factories that don't employ prisoners or children. The difference is a no brainer. If we compare farm fresh organic produce to that of cold stored, 5 month old supermarket produce, we taste the difference immediately. Synthetic, plastic feeling clothes that are mass produced in some sweat shop for two cents with no regard for the environment or clothes made using natural, sustainable fibres with natural dyes in factories with happy workers. Yep, happy clothes = happy planet = happy days.