Q: Why use hemp?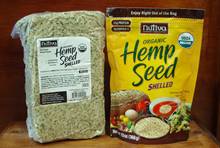 A: Hemp is an extremely versatile crop and has an impressive 25,000 know uses.  It can be grown in most regions of the world, requires little to moderate watering when growing and will mature in just 90 days. By choosing Hemp you are choosing to support a sustainable world through the use of sustainable products, not to mention the benefits Hemp can have for you.
Q: What's the deal with shipping?
A: If your order is received before 2pm, we can get your order out the same day. We use only registered post and will always provide you with a prompt secure service. You also will be refunded any excess postage that is charged at the checkout and we always use recycled packaging where possible.
Q: Do any of your products contain THC that will make me 'high'?
A: Contrary to popular myth and misinformation, Hemp Seed, Hemp Seed Oil and Hemp Protein Powders contain less than 0.3% THC will cannot cause any psychoactive effects.
Q: What is the country of origin of Shelled Hemp Seed sold in Australia?
A: All of the shelled hemp seed currently available in Australia is coming from either Canada, Europe or China. Europe does not currently grow enough hemp seed for its own use, so they rely on imported hemp seed from China to meet the demand. At the Hemp Store, we recommend and sell, only Canadian Grown Shelled Hemp Seed. We believe that Canada produces the creamiest, cleanest and most nutritious hemp seed available. They are, without doubt, the leaders in hemp food technology. Please do be careful of cheap Chinese Hemp Seed labelled as a premium product. Always make sure that the seed you purchase clearly has the country of origin labelled on it.
Q: Are there Australian farms growing hemp? If so, what is this hemp used for?
A: There are hemp farms in Tasmania and Victoria growing hemp seed, used for the production of Hemp Seed Oil and Hemp Meal. There are also hemp farms up and down the East and West Coast of Australia growing hemp for building purposes, animal bedding,  and for research.
See; www.hempmasonry.com, www.hempcrete.com.au, www.ecofibre.com.au, www.biofiba.com,
www.hempresources.com.au,
Q: Does hemp oil cure cancer?
A: While Hemp Oil is good for you and will definitely improve one's health, it is not the same Hemp Oil (Phoenix Tears) mentioned on lots of websites and news stories currently circulating about the shrinking of tumour/cancer growth. This product is made from the high THC variety of Cannabis and is wrongly promoted as Hemp Oil. It should perhaps be called Cannabis Oil. It's use and sale is unfortunately prohibited in Australia.
Q: How can I support the Australian Hemp Industry?
A: The best thing you can do is to join a Hemp Association in your state. This will help them spread the word about hemp and keep the industry growing. Talk to your friends about hemp, buy hemp products and let everyone know about your hemp products and how good they are and/or how they have helped you.
We are proud members of the Queensland, Tasmanian, Victorian and New South Wales Industrial Hemp Associations.
http://www.hempvictoria.org
http://ihansw.org.au
http://www.ihaq.com.au
If you have any hemp related questions you would like answered or would like to share your hemp experience, feel free to contact us any time on (02) 4344 2300.