We know all about Dr Bronner's, right?
All natural, fair trade, safe for the family, 18-in-1 uses…well, more than 18. Some of those uses are simple! Bung a few drops in with this, a squirt in that and you're good to go with your eco-friendly dishwashing-laundry-multipurpose-dog wash! But some have a bit more of a recipe involved.
The lovely Lisa Bronner has made a fabulous cheat sheet that we've adapted to this post so you can get the most out of your post-consumer recycled bottle of Dr Bronner's Pure Liquid Castile Soap.
---
The Body
Hand, Face and Body Wash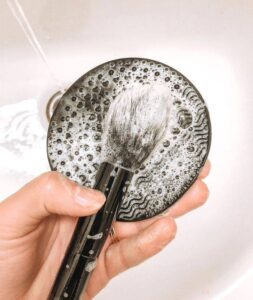 Add a small squirt of Pure Liquid Castile Soap to your hands or washcloth.
Make-up Remover
Wet face and lather 3 drips of soap in your hands. Massage into your skin. Rinse.
Hair
Use a couple of drops for short hair, or 1/2 tbsp for long. You can either work the soap directly into wet hair or predilute it in a cup of water. Follow with Dr Bronner's Citrus Organic Hair rinse or diluted apple cider vinegar.
Bath
Add approximately 2 tbsp to an average sized bath tub. Remember, Bronner's doesn't bubble! But it still cleans.
Shaving
Beards use 10 drops, underarms use 3 drops, and legs use 1/2 tsp. Work the soap into a lather and shave away!
Teeth
Add one drop onto a toothbrush (yes, it tastes like soap!)
Foot Bath
Add 1/2 a tbsp to a small tub of hot water or foot bath.
Clearing Congestion
Add 1 tbsp of Peppermint or Eucalyptus Pure Liquid Castile Soap to a bowl of hot water (not boiling). Breathe in the mist with a towel draped over your head.
The Home
Dishes (Handwashing only)
You can add a couple of squirts directly to your sink or pre-dilute 1:10 and squirt it on your scrub brush.
Laundry 
Add 1/3-1/2 a cup (80-120ml) for a large load in a regular washer. Follow with 1 cup of vinegar in the rinse cycle. For extra whitening and deoderising add 1/2 a cup of baking soda to the wash cycle. Halve these amounts for High Efficiency washers.
Handwashing Delicates
Add one capful of soap to 4L of cold water. Swish gently and let soak for 10 minutes. Swish again before rinsing with clean water. Gently press out excess water with a towel and hang (flat) to dry.
Mopping (Wood, Laminate and Stone)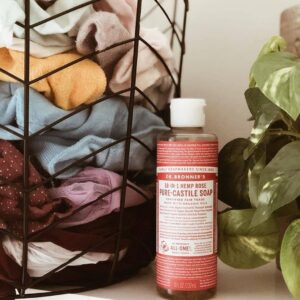 Add 1/2 cup of soap to 12L of hot water. Mop as usual, avoiding excess water left on wood and laminate!
All-Purpose Cleaning Spray
Add 1/4 cup of soap per litre of water in a spray bottle and clean as usual. For an extra antimicrobial boost add 1/4 tsp of tea tree essential oil!
Windows
Add one tsp to 1L of water in a spray bottle. Spray and squeegee. Follow with a spray of half vinegar and half water solution and squeegee to get those streaks!
Toilet
Predilute 1:4 with water in a squirt bottle and add 1/4 tsp of tea tree essential oil. Squirt bowl thoroughly, sprinkle baking soda onto brush and scrub the bowl. Let it sit for ten minutes before flushing away.
All The Other Stuff
Fruit & Veggie Wash
Add a dash of Bronner's to a bowl of water. Dunk produce, swish and rinse with clean water.
Pet Wash
Wet your pet thoroughly and apply enough soap to get a good lather going. Rinse thoroughly.
Cleaning Make-up Brushes
Wet your make up brushes with water and add 1-2 drops of Bronner's to the bristles. Massage gently for 10 seconds and rinse. Repeat as needed until the water runs clear.
Plant Spray for Bugs
Add 1 tbsp to 1L of water. Spray plants twice daily until the infestation clears.
Ant Spray (Not For Plants!)
Add 1/4 cup of Tea Tree Castile Soap to 1l of water and spray the area. Avoid your plants because this concentration will burn them.
---
And now you know! Did we miss your favourite way to use Dr Bronner's? Let us know in the comments.
Grab a new bottle from the range here, or check out our Sustainable Home Starter Pack which includes the 237ml Bronner's of your choosing!
You can download Lisa Bronner's beautiful cheat-sheet from her website here.
Keep it clean, keep it green and keep it hempy!
Love,
The Hemp Store Team